Review 2022
Dear Friends of Nature,
Our activities in 2022 mainly concerned the protection of the Lord's Meadow, an old hay meadow measuring 40 ha in Luna de Jos (near Cluj-Napoca), which is no longer mown by the local farmers. As a result, it is becoming increasingly overgrown by shrubs and the excessive sheep grazing is also having a negative impact on the vegetation structure and typical meadow species.
Yet the meadow is a great example of what treasures the interaction of natural resources and extensive agriculture can create: it is one of the few places in Europe where five species of Maculinea butterfly species occur together - or did until recently, one must unfortunately say, as the abandonment of mowing as well as the grazing has already severely affected the butterfly populations.
It is not yet too late for the Maculinea butterflies - which is why we have continued to work this year for the long-term protection of the Lord's Meadow:
In spring, a 2-hectare area in the Lord's Meadow was cleared from shrubs and the material was used to build a natural fence as protection against grazing.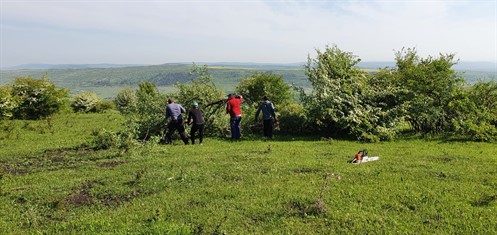 In cooperation with other local organisations, controls and discussions with the sheep farmers ensured that this area was not grazed throughout the summer.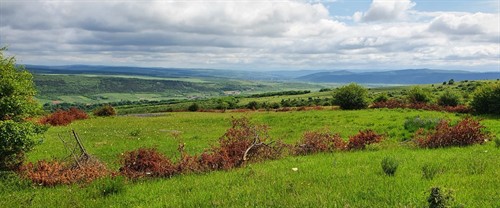 At the end of August, the 2 hectares were then mown with a small mowing machine and the hay was removed from the area.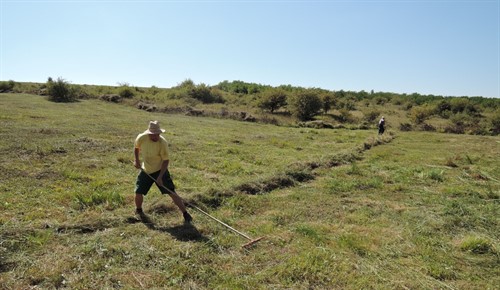 We were also able to sign renting contracts for further plots in the Lord's Meadow.
Many thanks to all the people who helped with the practical implementation of the measures and to all those who supported us through donations! We are also happy that the NaLa Association will dedicate a part of the donations from his year's Christmas tree campaign to us again.
Season's greetings and best wishes for a Happy New Year!