Review of the year 2015
Dear friends of the Mozaic Association!
The active members of the association were very busy with their own jobs and families this year, so that we haven't been able to carry out as many activities as usual. However, we have made the important step of revising the bylaws to simplify the structure of the association and make it more transparent, which will help the association to develop and grow in the future. We have also begun to organise the purchase of one of the most special traditional hay meadows in the Mozaic region so that it can be protected for nature. The purchase was made possible by donations from the NaLa-Verein e. V.
We are looking forward to 2016, and hope that we, together with many helpers, can carry out lots of activities to promote nature conservation and small-scale farming - there is much to do!
A short overview of our most important activities in 2015:
1. The successful completion of the DBU project "Mozaic II" for the preservation of traditional hay meadows in the Natura 2000 area "Eastern Hills of Cluj". The final report can be found here.
2. Hay meadow parcels were identified for purchase, and the first steps were made to acquire 1 hectare of a traditional hay meadow.
3. Revision of the association bylaws; these, along with the statutes, will be published on our website in early 2016.
4. The "Fanatul Domnesc" hay meadow was, as in previous years, protected against illegal grazing in the summer months by renewing the boundary markings (for more information, see the Mozaic II final report p 31).
5. The continuation of monitoring of mown and unmown hay meadows in the "Eastern Hills of Cluj" Natura 2000 area.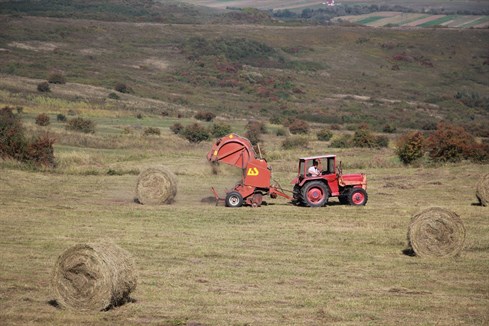 We wish you a happy and peaceful holiday, and a wonderful 2016!