Mozaic Projects
It all began with the discovery by Prof. L. Rákosy of the fivefold miracle in Borşa and Dăbâca communes: the only known site in Europe harbouring all 5 butterfly species belonging to the rare group of the Large Blues (Maculinea spp.). They can be found in extensively-farmed hay meadows, which are a valuable but threatened element of the cultural landscape of the Hills of Cluj and an important hotspot of plant diversity worldwide.
These are more than enough reasons to begin with research and protection of the Maculinea butterflies and their habitats - which we did by launching the Mozaic Project I in 2009, funded by the German Federal Foundation for Environment (DBU). During the last 3 years we studied the ecological and socio-economic background of the area and the populations of the butterflies. An important element of the project was the pilot agri-environment programme for meadows carried out in 2011, rewarding farmers for the mowing of selected parcels.
Through the collaboration with the European Forum on Nature Conservation and Pastoralism (EFNCP) our activities were complemented with research on agricultural subsidies, property issues and common land as well as High Nature Value grasslands. In 2011 a new Site of Community Interest within the Natura 2000 network was designated including the Borşa and Dăbâca communities.
June 2012 marked the beginning of Mozaic Project II. The main aims of the new project are to improve the pilot agri-environment programme for hay meadows and introduce small hand-mowing machines into the area. The collaborations with farmers will be intensified and a monitoring system for the target species and habitats developed. In this way we want to continue our contribution to the protection of the unique hay meadows in the Hills of Cluj.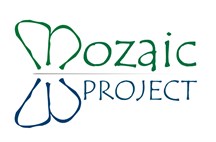 Facts & Figures
DBU Project Mozaic I
Project period: 01.08.2009 - 31.07.2012
Project holder: Rheinische Friedrich-Wilhelms-Universität Bonn
Cooperation partner: Babes-Bolyai-University Cluj
Other Partners: Lepidopterological Society Romania, Ecouri Verzi Cluj
Project Sponsors: DBU, EFNCP
Project number (DBU): 27559

DBU Project Mozaic II
Project period: 01.06.2012 - 31.12.2014
Project holder: Rheinische Friedrich-Wilhelms-Universität Bonn
Partners: Mozaic Association, Lepidopterological Society Romania
Project Sponsors: DBU
Project number (DBU): 30167